Bishop, CBCI Condemn Mumbai Rail Blasts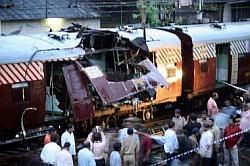 Picture Courtesy:
Reuters
MUMBAI June 11:
Over 140 have been reported dead and more than twice the number injured after a series of explosions ripped through packed commuter trains compartments in India's commercial capital Mumbai (formerly Bombay), during rush hour this evening.
As many as eight blasts have said to have occured between 6pm and 6.30pm at Mahim, Bandra, Matunga, Borivili, Mira Road, Jogeshwari, Bayander and Khar when people from offices were returning home.
The Catholic Bishops' Conference of India (CBCI)
condemned the bomb blasts
"which has caused so much of damage and created panic among the people" and called it "the handiworks of anti-social elements".
Bombay Archdiocesan Administrator,
Bishop Bosco Penha expressed deep shock
over the blasts. He condemned the violence and condoled the huge loss of life. "We convey our heartfelt condolences to those who lost their near and dear ones in these terrible blasts and pray for the deceased," the Bishop said.
Bomb blasts are not new to India's biggest commercial city. Since 1993, Mumbai has witnessed
many major and minor bomb blasts
. It is suspected that the explosions were pre-planned and similar to earlier ones.
END
Catch the latest Mumbai blast stories with Pajamas Media