Saturday Youth Night Vigil at Renewal Retreat Centre (RRC) Bangalore celebrates fourth anniversary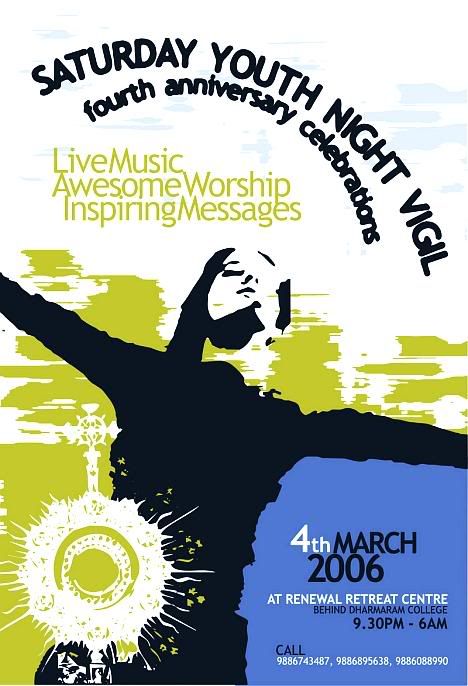 Dear friends,

It is big time for celebration as we come together to thank the Lord for the four years of abundand blessings on the Saturday night vigil.

Over the years, thousands have passed through the vigil and have been blessed beyond measure. The Saturday Night Vigil has been instrumental in kindling the love for Jesus in the most Blessed Sacrament in many hearts and totally transforming lives, as attested to by countless testimonies.

For the anniversary, there will be a special time of Praise and Worship, followed by the Word of God by Br. Fritz from ICPE, Holy Mass celebrated by our beloved priests who have assisted for the vigil in the past years, healing and a time of intercession. Confession will also be available during the time. And needless to say, there will be cake cutting and special gifts too.

The fourth anniversary celebrations also mark a turning point for the Night vigil. The Night Vigil team has always been attentive to the voice of the Spirit. A new structure for the vigils which came into being after hours of prayer and discernment will come into effect from the week following the anniversary.

The night hours of Saturday, 4th of March is going to be an amazing time of grace. We invite you to be with us at this time and also request you to pass the message on to your friends.

Finally, keep the anniversary specially in prayers.

May the blessings of the good Lord be with you.

Night Vigil Team.
Posted by Rohit D'Souza
Tags:
Jesus
Youth
Bangalore
Renewal
Retreat
Centre
Youth
Night
Vigil