Parishioners of the Holy Eucharist Church, Bangalore, request help for grotto construction
Dear Konkani Speaking Catholics,

Greetings to all of you in the power of the Eucharist.

The Holy Eucharist Church situated off Hosur Road, Mangammnapalya Bommnahalli was inaugurated in the year 2004 by Archibishop Emeritus Ignatius Pinto. There are 170 families speaking Kannada, Tamil, Konkani, Malayalam and English. It is the only Holy Eucharistic Church in Karnataka, Bangalore. Ever since our church inauguration parishioners have contributed generously to help buy so many things for the church.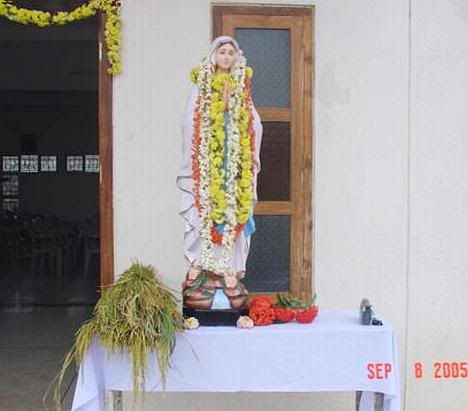 We have a plan to build a grotto of Mother Mary and I appeal to the generous hearts to contribute to help us build a grotto. Be assured of our prayers and welcome you all to our parish. The contact and other required details are as under.

The bank Account details are as follows:
Indian Overseas Bank
Bank Account Number is SB A/C 7092
Begur Rd, Hongasandra Bagalore 560068

Trustees:
Mr John Veleran Miranda
Mr Dominic Leo Pereira

Name of the Church:
Holy Eucharistic Church
Near Graphite Garment Mangammana Palya
Bomanahalli Bangalore 560068

Parish Priest:
Rev Fr Amarnath Dinesh Roy

For further clarifications kindly get in touch with:
Mr. Dominic Leo Pereira
Tel.: 91-080-9343736497 / 25735885 / 41462079
Email: dlpereira12571@yahoo.co.in

Mr. Veleran Miranda
Tel.: 91-080- 25732547.

Rev. Fr. Amaranth Dinesh Roy
Tel.: 91-080- 25732010 / 9845721251
Email: roy_amarnath@rediffmail.com

Requesting you all to do the needful....Your generous contribution to our newly built church will be rewarded.

Yours Sincerely,
Fr. Amarnath Roy.
Posted by Raj Francis Pereira
Tags:
Holy
Eucharist
Church
Bangalore
Appeal
Kannada
Tamil
Konkani
Malayalam
English
Archbishop
Mother
Mary
Catholics
Contribution