Bangalore Jesus Youth Professionals' Ministry to organize "CrossRoads '06"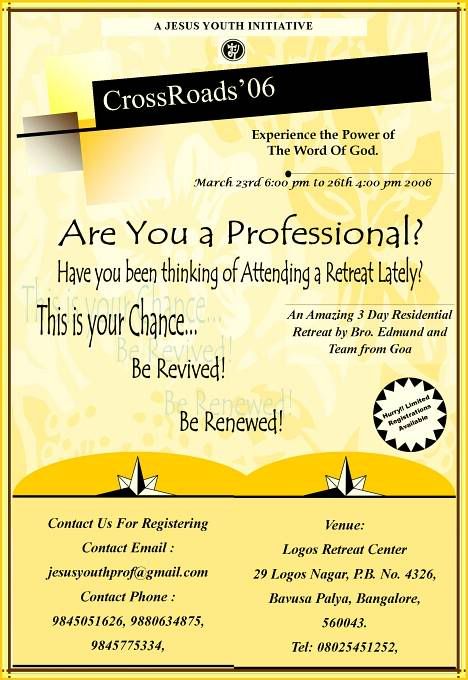 Taking its theme from Jeremiah 6:16 - "Stand at the crossroads and look; Ask where the good way is, and walk in it, and you will find rest for your souls" - CrossRoads is a perfect chance for working youth to discover, live and radiate Christ in and through their professional life.
The program will take place at Logos Retreat Centre, and participants are required to bring their Bibles, stationery, bed sheets & pillow covers, and toiletries along. A nominal registration fee of Rs. 300/- per head will cover food and accomodation charge for all three days.
The retreat will be led by Mr. Edmund and team from Goa.
Retreat Information
Dates: 6pm Thursday, 23rd to 4pm Sunday 26th March, 2006.
Registratinon Fee: Rs. 300/- (Inclusive of food and accomodation for 3 days.)
Venue: Logos Retreat Center, 29, Logos Nagar, P.B. # 4326, Babusahibpalyaya, Bangalore 43.
Transportation for the needy will be arranged upon request.

How to Register?
Send your
Name, Phone, Email, Company and Date of Birth
(Year Optional)
by email to jesusyouthprof@gmail.com
Hurry! Limited Registrations!!!
Contact Persons:
Rohit (9845051626), Deepak (9845775334), Jose TTK (9880634875)
Trackback Link:
http://jybangalore.blogspot.com/2006/03/crossroads-06-special-working-youth.html

Tags:
Jesus
Youth
Bangalore
Professionals
Ministry