Celebrating 10 Fruitful Years As Bishop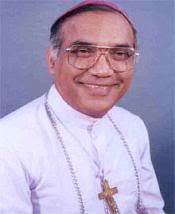 Aloysius Paul D'Souza
Bishop of Mangalore
Today, i.e., 15 May 2006,
Bishop Aloysius Paul D'Souza
will completes 10 years as Bishop.
Most. Rev. Aloysius Paul D'Souza who hails from Bantwal was born on 21st June 1941. His priestly ordination took place on 3rd December 1966, the feast of St. Francis Xavier, Apostle of the Indies. 30 years into his priesthood, he was ordained Bishop on 15th May 1996 and served as the Auxilliary Bishop of Mangalore. Following the sudden and untimely demise of Bishop Basil Salvadore D'Souza on teacher's day (5th September) the same year, Most Rev. Dr. Aloysius P. D'Souza was appointed Mangalore Bishop on 18th December, 1996.
Bishop Aloysius D'Souza, a doctorate in Canon Law, has the distinction of being the first Indian Priest to serve as advocate in the Sacred Roman Rota, the highest appeals court in the Church.
The personality of Bishop Aloysius is best summed up in his own motto,
"With the Compassion of Jesus Christ".
The
Konkani Catholics
family wishes the Bishop a happy decennial episcopal jubilee.