Bishop Aloysius Paul D'Souza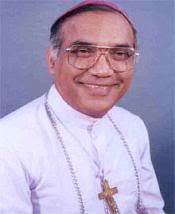 EASTER MESSAGE
To all friends from Mangalore!

'Christ is truly Risen' Alleluia this is our belief built on the solid foundation of the apostles and disciples of Jesus Christ who witnessed the historical event of the resurrection of Jesus. St John says " we have seen, heard and touched Him". The faithful from the beginning never doubted about the resurrection of Christ. Therefore the 300 years of the Church was the centenaries of martyrs. The resurrection of Christ was a reality to them. The Church lives by the presence of Risen Lord. We live by Him. Let the strength and grace of Risen Christ strengthen us in our faith and to over come evil in us and in the society.

Happy Easter- Joy and Peace of the Risen Lord.

+ Most Rev. Aloysius Paul D'Souza
Bishop of Mangalore.
Source: http://www.mangalorecatholics.org

Also See:
Tags:
Mangalore
Mangalorean
bishop
diocese
Church
Easter
Message
Catholic
Catholics