'Simple, Approachable' Prelate Gets Red Hat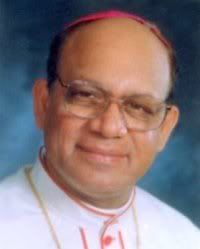 MUMBAI, India, October 17, 2007 (UCAN) -- India's Archbishop Oswald Gracias, whom Pope Benedict appointed a cardinal on Oct. 17, has had a fast rise in Church ranks.

The 62-year-old cardinal-elect currently serves as archbishop of Bombay, the Indian Church territory with the largest number of Catholics.

The only Asian among the 23 newly appointed cardinals came to this archdiocese after its former archbishop, Cardinal Ivan Dias, moved to Rome last year to serve as prefect of the Congregation for the Evangelization of Peoples. Bombay is the former name for Mumbai, India's commercial capital, 1,410 kilometers southwest of New Delhi.

Previously the cardinal-elect served six years as archbishop of Agra, the oldest diocese in northern India. He started his episcopate as auxiliary bishop of Bombay in 1997.

For several years now, the Church in India has banked on the prelate to solve many vexing problems. Church people say they find the newly appointed cardinal one of the "most simple and approachable" Church leaders in India.

In 2006, at the behest of the Vatican, Cardinal Gracias used his diplomatic skills to bring unity in a religious congregation based in Goa, western India, that had split into two groups in 1977.

Recently, he challenged the Indian government over its policy on Special Economic Zones. The prelate wanted the government to consult local people before implementing projects that affect them. He urged priests and laypeople to join public rallies and lobby with others to save the common man from the ill effects of such policies.

People who have worked with Cardinal-elect Gracias say he "never says no" to any request, even in difficult situations. They describe him as having a way with words and a manner of conveying them laced with affection that puts people at ease, even though their problem may not have been solved for whatever reasons. His admirers say his "bright face is always lit up with a smile."

Bernadine Jackson, the prelate's secretary when he was in Agra, told UCA News she found him "the most simple" to work with. "We wished he remained in our archdiocese for a long time, but that was not be," she remarked, adding that laypeople found him "very approachable."

He has shouldered several major responsibilities in the Indian Church.

Currently the cardinal-elect heads the Conference of Catholic Bishops of India (CCBI), the national body of the country's Latin-rite prelates.

Earlier he served as secretary general of the Catholic Bishops' Conference of India (CBCI), the national body for prelates of all three rites -- two Oriental and the Latin --in the country. At present, he chairs the CBCI Commission for Social Communications and its National Institute of Social Communications, Research and Training. Meanwhile, he is ecclesiastical adviser to the Indian Catholic Press Association.

Cardinal-elect Gracias was president of the Canon Law Society of India twice, 1987-1991 and 1993-1997. He has served as consultor for the CBCI Doctrinal Committee and for the CCBI Commission for Interpretation of Legislative Texts (1992-1997).

Now, he is a consultor to the Pontifical Council for the Interpretation of Legislative Texts.

The CCBI plenary elected the prelate to attend the XII Ordinary Assembly of the Synod of Bishops on the theme "The Word of God in the Life and Mission of the Church," scheduled for October 2008 in Rome.

He teaches canon law at Pius X Seminary in Mumbai and at the pontifical seminary in Pune, and his book Conciliation Code offers useful advice to solve many problems the Church faces.

Cardinal-elect Gracias was born on Dec. 24, 1944, in Mahim, Mumbai. He completed his seminary training at St. Pius College in Goregaon, Mumbai, and was ordained a priest on Dec. 20, 1970. After a short stint as chancellor of Jamshedpur diocese and secretary to its bishop, he returned to Mumbai. From 1977 to 1981 he studied in Rome, earning a doctorate in canon law and a diploma in jurisprudence during this period.

On his return to Mumbai, he was appointed secretary to the archbishop. A year later, he was made the archdiocesan chancellor.

When appointed auxiliary bishop, he chose as his motto: "To Reconcile All Things in Christ." He became Agra archbishop just three years later and archbishop of Bombay on Oct. 14, 2006.

Bombay archdiocese has 509,286 Catholics spread over 98 parishes in three districts. Approximately 750 priests and 1,530 nuns serve in the archdiocese.


Bio Data
Date of Birth: December 24, 1944 at Mumbai
Parents: Jervis and Aduzinda Gracias
Ordained Priest: December 20, 1970
Ordained Bishop: September 16, 1997
Installed Abp of Agra: November 23, 2000
Appointed Abp of Bombay: October 14, 2006
Installed Abp of Bombay: December 14, 2006
Edu. Qualifications: B.A. at St Xavier's College, Ranchi
Doctor of Canon Law, Urban University, Rome
Diploma in Jurisprudence, Gregorian University, Rome

Assignments:

1971-1976 - Secretary & Chancellor, Diocese of Jamshedpur
1977-1981 - Rome, studies in Canon Law
1982-1986 - Secretary to Archbishop of Bombay
1982-1997 - Chancellor, Archdiocese of Bombay
1988-1998 - Judicial Vicar, Archdiocese of Bombay
1997, Jun 28 - Appointed Auxiliary Bishop of Bombay
1998-2000 - Vicar General, Archdiocese of Bombay
2000, Sep 07 - Appointed Archbishop of Agra
1998-2002 - Secretary General, C.B.C.I
2005-Present - President, Conference of Catholic Bishops of India

Other Assignments:

1987-1991 - President, Canon Law Society of India
1988-1998 - Consultor, C.C.B.I. Canon Law Commission
1990-1995 - Consultor, Doctrinal Commission, C.B.C.I.
1993-1997 - President, Canon Law Society of India
1996-Present - Consultor, Pontifical Council for Legislative Texts, Rome
1998-2005 - Chairman, C.C.B.I. Commission for Legislative Texts
2001-Present - Vice Chairman, Vox Clara Committee, Congregation of Sacraments, Rome
2002-Present - Chairman, C.B.C.I. Commission for Social Commun. & Chairman, NISCORT
2002-Present - Chairman, C.B.C.I. Commission for Law and Public litigation

Courtesy: UCAN News (

http://www.ucanews.com/

) & Press Release