Msgr. Simon Tellis Appointed Vicar General of Karwar Diocese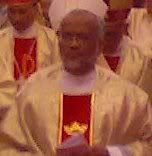 May 23, 2007 (KCNews.org):
Msgr. Simon Tellis has been appointed Vicar General of the diocese of Karwar with effect from 14th May 2007. Bishop Derek Ferandes announced the appointment in his circular dated May 19, 2007.
Msgr. Simon Tellis was first appointed Vicar General of the diocese in October 1989 by Rt. Rev. William D'Mello, Karwar's first Bishop. This post he held till the retirement of the Bishop D'Mello on 24 February 2007 at which time he served as the administrator of the Diocese till the consecration of Most Rev. Derek Fernandes on 20 April 2007 as Bishop of Karwar.
According to Canon Law, a vicar general may be freely appointed or removed by a Diocesan Bishop.
In appointing Msgr. Tellis once again to the post, the new Bishop may have wanted to bring continuity in the work started by Bishop Emeritus DMello alongside whom the Monsignor worked for almost 18 years.