A Carmelite Priest, 3 Brothers, A Layleader Attacked In Karnataka
Mangalore, June 26, 2007, 06.30 Hrs (CBCI News):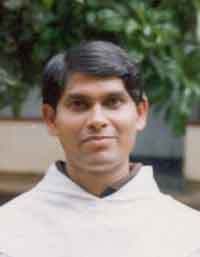 Fr. Sylvester Pereira OCD
A Carmelite (OCD) priest and 3 brothers belonging to the Karnataka-Goa Province, residing in the monastery, 'Carmel Ashram' at Katkere, Koteshwar, near Kundapura in Karnataka, and a local layleader were physically attacked by fanatic Hindu miscreants Monday, June 25.

Fr. Sylvester and the four other injured persons were taken to the government hospital for medical attention and later shifted to 'Chinmayi Hospital'. They are all under shock, after the traumatic experience of the day.

The superior of the community, Fr. Sylvester Pereira had gone to the 'Surgeon Hospital', along with a regent, Brother Joyson Saldanha, an aspirant, Brother John Pradeep and the cook, Mukunk Bhandary, for a medical check-up. They were all accompanied by a friendly neighbour, Mr Valerian D'Silva.

While they were inside the hospital awaiting for the doctor, 4 local miscreants belonging to a local communal organization, confronted the priest and brothers, verbally accusing them of converting people to Christianity.

Then Fr. Sylvester was caught by the collar, pulled down the stair, pushed to the ground and severely beaten with kicks and blows. The others who tried to intervene and protest, also became the victims of the violent attacks. In the process, Mr. Valerian even lost a few of his teeth.

With this commotion, people gathered around the spot, but the miscreants shoved them into a waiting autorickshaw and forcibly took them directly to the local police station. They complained that that the victims were caught them in the process of converting people.

Initially, the police believed their version and did not allow the helpless victims neither to seek help from others, nor to lodge their own complaint.

It's only when the local parish priest Fr Anthony Lobo intervened and the local police circle inspector Valentine D'Souza arrived, the things began to fall in place.The assailants who understood they had no escape, confessed to their crime, but tried to excuse themselves under the pretext of mistaken identity of the priest. An FIR was lodged immediately against the assailants.

The provincial of the Karnataka-Goa province Fr Dominc Vas, responding to the incident stated, "In a Democratic and Secular country like India, incidents such as the one involving one of our priests and a few seminarians, is a blot on the legacy of communal harmony."

"Various fathers and brothers belonging to our monastery, since it was founded in 1998, have been rendering yeomen service to the neighbourhood. They have never instigated communal passions nor incited violence. Actually the presence of our members has been appreciated by all the people in the vicinity," stated the provincial superior.