BANGALORE: Saturday Youth Night Vigil to Celebrate Anniversary on 17th March 2007
God says, "I have called you by name: you are Mine.
You are precious in My eyes, and honored, and I love you." (Is 43:1,4)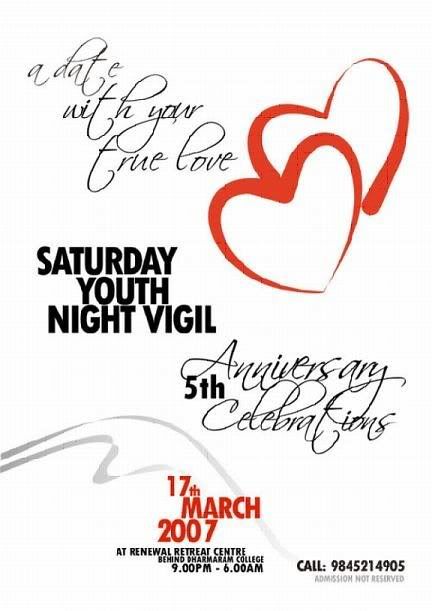 A special call to be with Jesus, before His Eucharistic Presence.
Come, let's love Him; let's experience His Love.

Don't miss it!
Bring all your friends

Remember that is starts at sharp 9.00 PM
Place : Renewal Retreat Center,
Behind Christ college
Bangalore - 29
Date : 17th March, 2007

God Bless you!
Night Vigil Team.
The Youth Night Vigil is successfully completing 5 yrs in its service towards the youth of this beautiful city of Bangalore. Working, studying, lay, religious all come together for a wonderful time of Praise, Worship, Fellowship and a time to listen to God's powerful Word. These 8 hrs have transformed thousands in the past and will continue to do so for many many youth who are willing to hear that call. God calls, forgives, transforms and blesses...Why miss out on so great a blessing that awaits us all. Come let us worship him as we together celebrate the 5th Night Vigil Anniversary.