BANGALORE: "Shackles Off My Feet" - Musical Evening by Holy Ghost Youth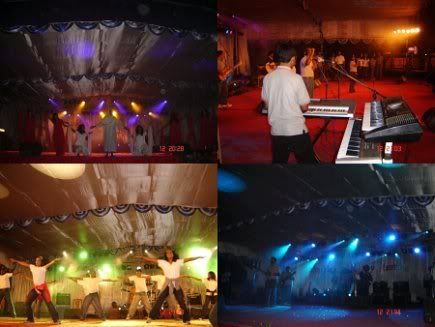 (Click on picture to see exclusive 73-photo album)
BANGALORE, November 12, 2006 (KC Blog):
"Take the Shackless Off My Feet So I Can Dance" went the choreography number that rocked the city's Redemptorist Seminary grounds Saturday and Sunday evening last.
The musical evening of "Praise and Worship in Song, Dance and Skit" was initiated by the "Holy Ghost Youth" with active help from the "Hosanna Youth" and the ICPE Mission.
The lively song performances by the choir and musicians saw a good portion of the 2000 strong crowd on either days, up on their feet and dancing.
Fr. Joseph Roy CSsR, the youth animator of "Holy Ghost Youth" delivered a message. The group's co-ordinator, Fr. Dominic Savio CSsR while lauding the initiative appealed to the generosity of the people to help spread God's Word.
The programme was compered by Kimberly D'Mello.
Previously
Shackles Off My Feet - Musical Evening at Bangalore