GOA: Archbishop Releases New Archdiocesan Directory on Pastors Day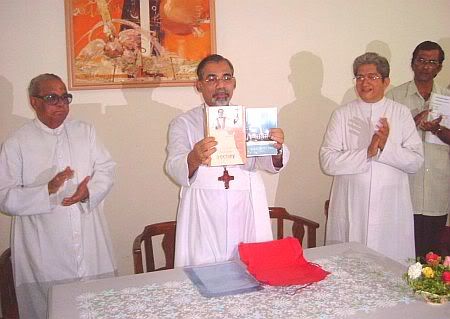 PANJIM, August 5, 2006 (KC Blog):
The new Directory of the Archdiocese of Goa and Daman was released yesterday, Pastors day, by Archbishop Filipe Neri Ferrao at a simple ceremony held last evening at the Archbishop's House, Panjim, in the presence of Archbishop Raul Gonsalves, Heads of various Diocesan Bodies, and the Staff of Archbishop's House.
The Directory, published by the Diocesan Centre for Social Communications Media (DCSCM) and printed at the New Age Printers, the diocesan press at Verna, comes in a neat shrink-wrapping of two volumes.
The first, a 298 page hard bound volume, contains information about the history and pastoral organization of the archdiocese, details and photographs of every parish church, territorial maps, information on the various religious congregations and church institutions, and an additional photo gallery of some diocesan institutions and events. The second is a 126 page paperback volume providing changing information like personnel in the diocesan councils and bodies as well as institutions, names and addresses of the clergy, etc.
The archdiocese plans to bring out an updated verison of the second volume every year.
The two-volume packet costing Rs. 100/- will be made available from 10th instant,at the Archbishop's House, Institute Piedade, St. Paul Sisters (18th June Road) in Panjim, Grace Church and Lighthouse in Margao, St. Andrew's Church and Treasure House in Vasco, Pastoral Institute and Bom Jesus Basilica, Old Goa and St. Jerome's Church, Mapusa.